We invite you to explore Hayman Island by InterContinental
Welcome to a new era of immersive luxury in the heart of the Great Barrier Reef. InterContinental Hayman Island Resort will immerse you in the breathtaking beauty of the Whitsundays, iconic private island experiences and sacred moments of connection with your family, friends and yourself. Discover a place of visual and visceral beauty so deep, it will leave you feeling transformed.
Your Stay
Nestled at the northernmost point of the stunning Whitsundays, Australia's most iconic private island resort redefines luxury island living with 166 beautifully-appointed rooms, suites and villas artfully intertwined with spectacular pools, panoramic seascapes and tropical gardens.
Lagoon Wing
Located on the tranquil eastern side of the resort, all rooms and suites in this wing offer serene sophistication with views spilling into lush tropical landscapes overlooking the lily lagoon and are moments from Hayman Beach and Coral Sea.
Pool Wing
Evoking a rare sense of escapism and accessibility, the Hayman Pool Wing presents magnificent luxury retreats perched over the iconic Hayman Pool with direct swim-out access or views across the breathtaking Coral Sea.
Beach Wing
Experience Hayman Island's most spectacular beachfront sanctuaries and private retreats featuring a collection of luxury villas each with uninterrupted views of Hayman's white sandy beach and Coral Sea.
Concierge
Our dedicated InterContinental Concierge team are on hand to provide attentive, personal service throughout your stay.  Let them help you design your personalised Whitsunday's escape and enjoy the best of the InterContinental life.
Restaurants & Bars
Designed to capture the essence of connectivity and the heart of Queensland's local flavour; discover a collection of five distinct dining experiences on Hayman Island. Each unique destination on island is brought to life with extraordinary attention to our guests' sensory experience.  From Aqua's poolside cocktail list teeming with a tropical taste of the island's fresh fruits, to Pacific's gourmet breakfast served daily against the backdrop of the Coral Sea. The distinct aromas of the East floating out of Bam Bam come lunchtime, to the intimacy of sharing a wood-fire pizza and glass of well-rounded red with your friends and family in Amici Trattoria.
Pacific
Feel at elegant ease all day long with this central ocean facing dining room. From a world of choice at your daily buffet breakfast through to sophisticated a-la-carte dining in the evenings. Relax with a glass of pinot gris in hand as you explore Pacific's contemporary island twist on a classic brasserie.
Amici
Encounter Amalfi Coast inspired vibes at this modern Trattoria. A space where lush greenery meets the azure blue and traditional Italian techniques define a beautiful menu. Amici immerses you in warm, inclusive dining each day. Celebrate an occasion or birthday in this amazing island setting.
Bam Bam
Connect with bright, bold pan-asian flavours with a modern twist. This fast paced dining space also serves up fresh juices and healthy snacks. From pan fried noodles through to seafood with fusion, Bam Bam is fast, fun and flavourful for your family to enjoy all day long.
Aqua
Sip on refreshing cocktails and sample creative shareplates in this exclusive pool-side oasis. Sink into plush lounges and ottomans for the afternoon with a lychee martini in hand. Relax with friends and family, or bring a book and spend the spend the afternoon gazing out in between chapters.
Bar Fifty
Sample signature cocktails as you relax as you take in views from one of the best locations on the island. Martinis, negronis and gimlets take on a new perspective as Bar 50 transforms old school tones into island time. This is the go-to place for pre and post dinner drinks.
Grove Boutique & Café
The resort's Hamptons-style retail hub and casual daytime eatery, Grove Boutique & Café is a mecca of luxury retail brands, souvenirs, holiday essentials and relaxed barista crafted Vittoria Coffee. Home to a wide range of gourmet light bites and cold beverages as well as a dedicated ice cream bar and boutique wine cellar complete with bottled beers and Champagnes.
Explore our Resort Experiences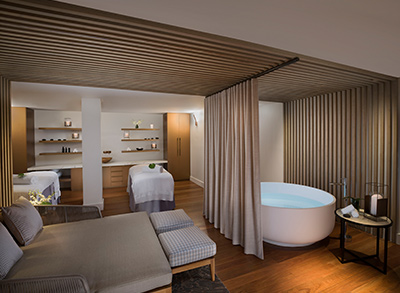 Spa & Wellness
Travel deeper into all-encompassing relaxation with Hayman Spa, rejuvenating both body and mind within one of ten luxurious treatment rooms. Deep immersion facials, invigorating massage therapies and an iconic spa oasis awaits.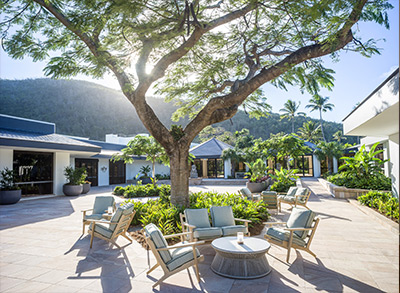 Weddings & Events
Whether it be intimate ceremonies of 10 or large sole-use conferences and events for 300, our magnificent selection of indoor and outdoor event venues are designed to connect you with your iconic island destination.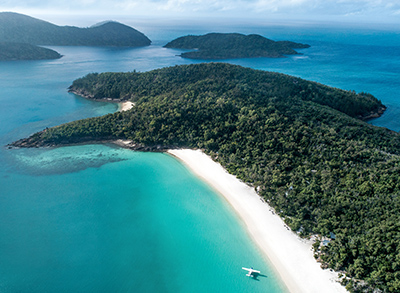 Whitsundays Experiences
Unlock adventures in the heart of the Great Barrier Reef with activities that see you explore heart shaped reefs by helicopter, remote white sand beaches by boat and rainforest mountain tops by foot.
Discover our current offers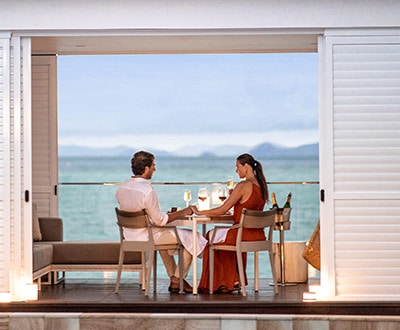 Stay in the Moment
Stay in the moment within the Whitsundays new luxury resort with at least 20% off IHG Best Flex rate. For stays up to 31 March 2020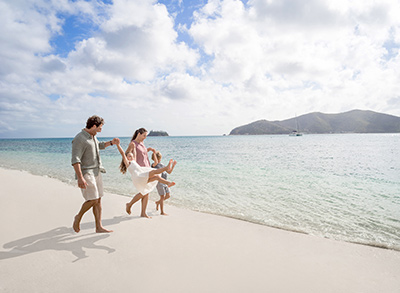 Opening Special
Be one of the first to experience InterContinental Hayman Island Resort with an incredible 25% off your luxury three-night stay and complimentary gourmet breakfast for stays between 1 July and 30 September 2019.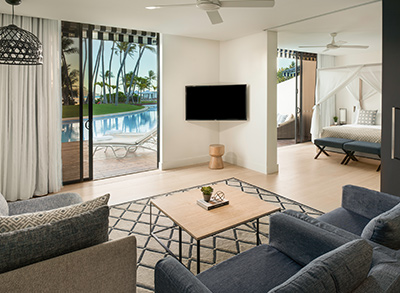 Experience Hayman's Suite Collection
Imagine if you could indulge in an extra night of luxury with our compliments. Explore our one-of-a-kind suite offer when you book before 30 September 2019.
#InterContinentalHaymanIsland
Follow us on Instagram @intercontinentalhaymanisland