HAYMAN BEACHFRONT ACTIVITIES
Head to Hayman Beach at high tide to enjoy a range of complimentary activities including paddleboarding, kayaking and sailing. Our activity team members are on the beachfront to assist in getting you ready for your beachfront adventure with all equipment and safety training.
View the Activities Timetable for available days and times
Complimentary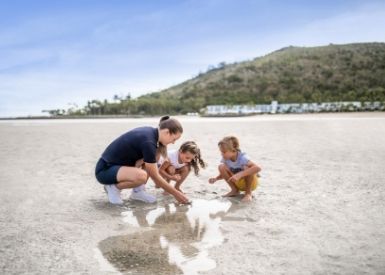 SAND FLATS TOUR
What lays below the surface of the ocean is fascinating. Low tide reveals 100 metres of beach-front shoreline that is scattered with coral, sea urchins and sea-shells. Wade through shallow waters and feel the sand on your feet as you explore Hayman at low tide.
View the Activities Timetable for available days and times
$15 per person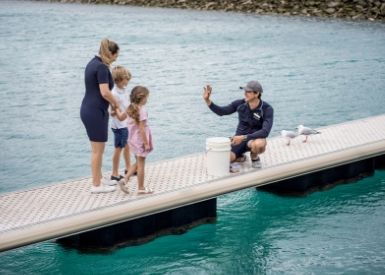 FISH FEEDING AT THE MARINA
Each day at 10:30am we offer Fish Feeding at the Marina Pontoon where you have the chance to feed giant trevally and the occasional grouper as they jump out of the water. This interactive activity is ideal for younger travellers.
Complimentary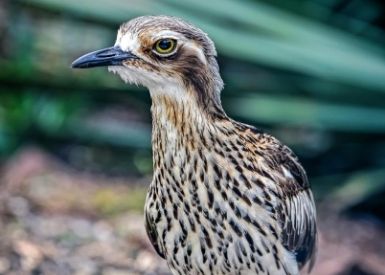 NATURE WALK
With nature at the heart of island, animal lovers will adore this insightful guided tour around the resort. Observe an array of Hayman Island's local wildlife including Wallabies, Cockatoos, Kookaburras Rainbow Lorikeets, Stone Curlews and more.
View the Activities Timetable for available days and times
Complimentary

NOCTURNAL TOUR
As dusk settles on Hayman Island, we invite you to explore nature at night with our Nocturnal Tour. Sight local Prosperpine Rock Wallabies, Owls and Rays in the marina as our expert team share local wildlife insights with you.
View the Activities Timetable for available days and times
$10 per person

WEAVING CLASSES
Using traditional methods from his native county of Vanuatu, our on-island Master Weaver takes Hayman Island's palm fronds and teaches guests innovative and fun-filled ways in which to create handmade masterpieces to take home as souvenirs.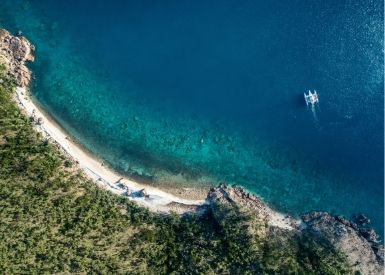 BLUE PEARL BAY GUIDED HIKE & SNORKEL
Fit adventurers can hike into beautiful bushland on this guided tour. After a refreshing incline, the reveal of breathtaking views across the Coral Sea rewards you from the top. To end, take a cooling swim in a secret cove to celebrate this moment. Suitable fitness and footwear is advised.
View the Activities Timetable for available days and times
$30 per person

SUNSET PEAK HIKE
Watch cobalt skies meet an electric sun down with this high intensity climb to the top of Hayman Island's peak, taking in breathtaking views across the vast Whitsunday Islands at golden-o-clock. Please be advised that this hike is high intensity and appropriate footwear is required.
View the Activities Timetable for available days and times
Complimentary

GOLF SIMULATOR
Master your swing with InterContinental Hayman Island Resort's state-of-the-art indoor golf simulator. Players can perfect their game with unparalleled accuracy and realism, measuring ball direction, speed, spin and launch angle in three dimensions.
$95 per hour
$150 for 2 hours

YOGA
Immerse yourself in a guided Vinyasa Yoga classes located in a hidden spot on Hayman Island. Your guide will take you on a journey through traditional Sun Salutations, before practicing a postural sequence to help improve flexibility and joint mobility.
$25 per person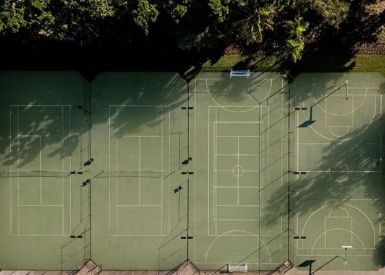 HAYMAN ISLAND'S RECREATIONAL CENTRE
InterContinental Hayman Island Resort offers a range of exciting sport and recreational activities. The recreation centre is located behind the main resort building opposite the formal gardens with activities including tennis courts, squash courts, basketball, croquet, soccer, bocce, pool and foosball.
Complimentary
POOL SNORKELLING LESSONS*
Snorkelling lessons are held daily in the Hayman Pool and are designed so you can build up your skills before venturing out near the reef on your off island adventure. Duration 60 mins
$60 per person
* This activity is operated and managed by Ocean Dynamics
DIVE REFRESHER POOL SESSION*
Join a pool session with SSI professional prior to heading out on the boat to regain your confidence and renewal your diving skills. Sessions run for approximately 1.5-2hrs depending on number of people on the course and ease in water. During the course dive certification must be checked and follow dive standards.
$250 per person
* This activity is operated and managed by Ocean Dynamics