EXPERIENCES & RECREATION
Dive day tours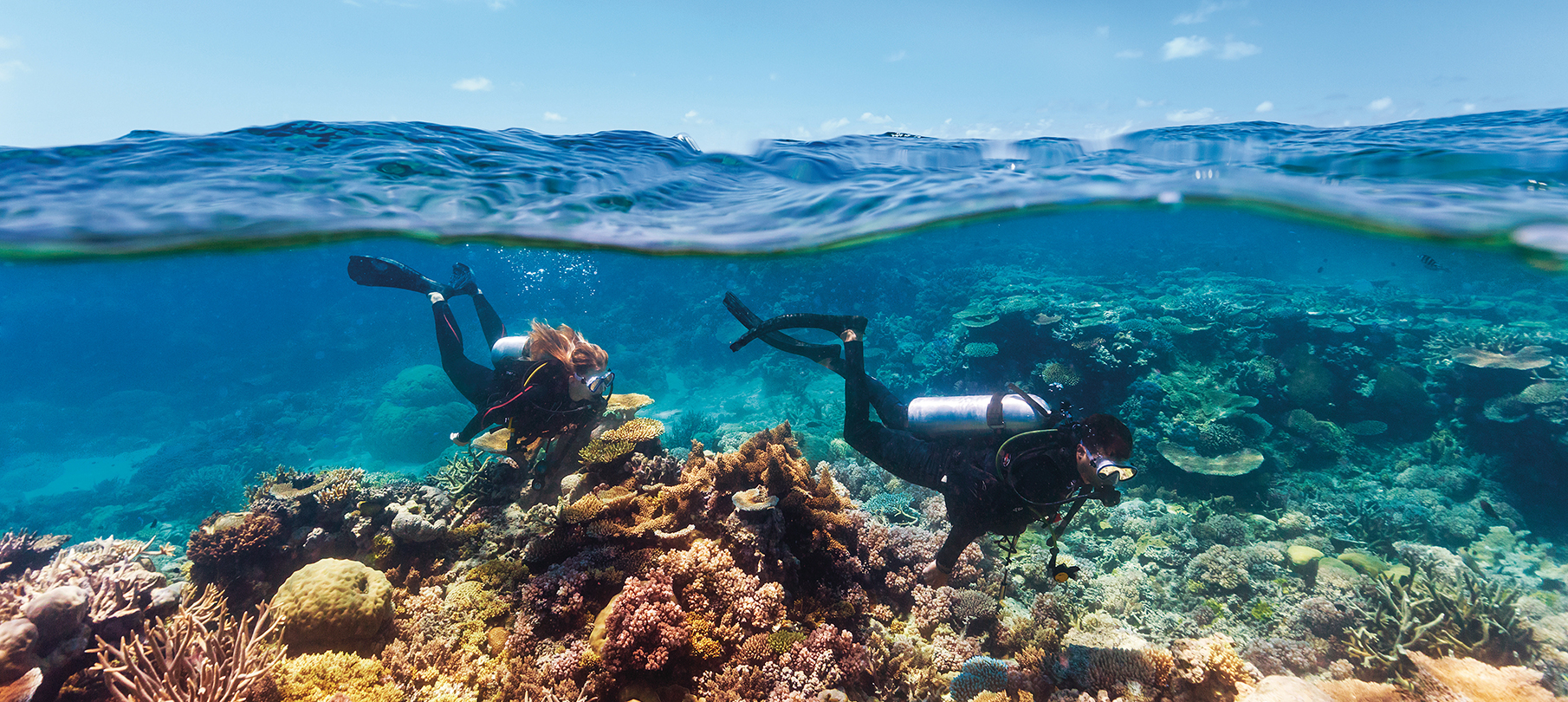 InterContinental Hayman Island Resort offers a range of Dive Day Tours to explore the underwater realm of one of the world's seven wonders: the Great Barrier Reef. Home to an abundance of tropical fish species, colourful coral reefs, and other sea life it also boasts ideal water temperatures all year-round, making it the perfect destination for scuba diving.
Recreation detail
Your Diving Escapade:
To ensure everyone gets to experience diving in the Great Barrier Reef, Ocean Dynamics offers tour options to all levels of diving – whether you are a skilled certified diver or a first-timer – our experienced dive instructors have designed experiences appropriate for a variety of skill levels.
During your diving tour you will have the opportunity to dive in breathtaking locations along the reef, both hand-picked to showcase the most stunning underwater scenes the Whitsunday Islands' has to offer.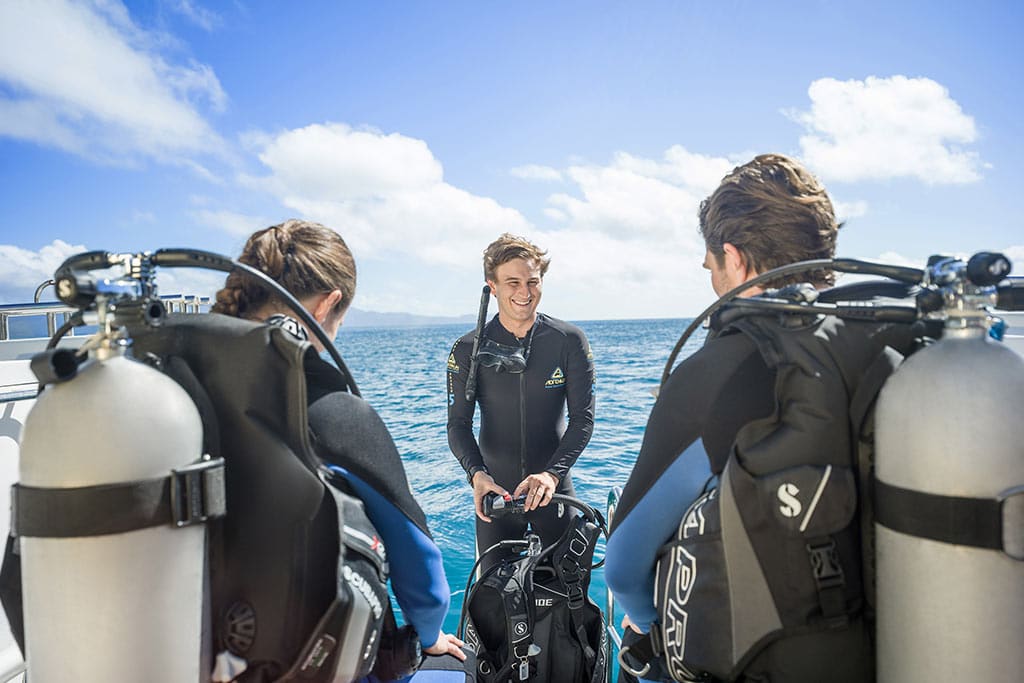 Guided Dive (& Snorkel) Tour*
On this bespoke inner reef guided snorkel or dive tour you will find an abundance of tropical fish species, colourful coral reefs, a variety of sea stars, sea cucumbers & urchins, giant clams and turtles to keep you amused for hours.
You can choose from 3 options on this tour – snorkelling, certified diving or an introductory dive.
If seeing the Great Barrier Reef is on your to-do-list, join us for a short journey to the reef and experience the beauty of this region.
Hayman Island is ideally situated only minutes from some of the most amazing fringing reefs, lavishing with fish, coral, turtles and other marine life. This gives Hayman Island guests the unique advantage of less travel time and more time in the water. You might be lucky enough to spot a manta ray or eagle ray too! In the months of July to September, the majestic humpback whales migrate to the warmer climate of the Whitsundays, and are often spotted during your boat trip.
This tour is suited for experienced divers and first time divers.
For introductory divers, your dive instructor will go through a full briefing on what to expect and how to use the dive equipment, along with the safety side of diving to ensure you are safe and comfortable for your dive experience. Your dive instructor will make the experience an informative and fun introduction to the wonderful world of diving.
Certified divers will have the opportunity to dive with other experienced divers and are generally separate to the introductory dive group to enable a more advanced, longer dive opportunity.
You dive instructor will ensure you make the most of your Great Barrier Reef dive experience.
Price: $295 per person (certified) or $350 per person (introductory) – minimum 12 years of age for introductory dives
Optional: private dive guides can be added to your tour (additional charges apply)
Advanced Guided Dive (& Snorkel) Tour*
Our advanced guided dive and snorkel tour offers guests with their open water dive certification, or who are experienced and confident snorkellers, the chance to travel further afield on one of our high speed sports vessels to explore inner and outer reef systems. Locations will be chosen based on prevailing weather and tide conditions to maximise your underwater adventure.
The Whitsundays offer easy access to some of the best coral reefs the Great Barrier Reef has to offer and delivers a stunning, colourful, underwater world of coral and marine-life unlike any other.
With ideal water temperatures all year round and a huge biodiversity of species and habitats makes this one of the most complex natural systems on Earth.
The tour is for certified divers only.
For certified divers the group is escorted by a guide in a small group – usually no more than 4-6 people to ensure that you get the most out of your dive on the Great Barrier Reef. Whether you are a newly certified diver, or an experienced diver with hundreds of dives to your name, our aim is to show you the very best of the Great Barrier Reef. During the tour you will have the opportunity to dive at two different reef locations.
Price: $350 per person
Optional: private dive guides can be added to your tour (additional charges apply)
All Dive Tour inclusions:
Your diving and/or snorkelling adventure includes:
A return luxury boat trip from InterContinental Hayman Island to two reef locations
Light refreshments served on board
Refreshments provided throughout the day including non-alcoholic beverages
Snorkelling and dive equipment provided
 Lycra wet suits for protection from the sun and marine environment
Optional upgrades:
Make your experience extra special by upgrading your experience to include the following:
An underwater photo package from $125
Access to premium dive equipment from $300 pp
Your own private snorkel guide from $1000 per day
Your own private dive guide from $1000 per day
Sea Scooter hire @ $200/scooter
Medical Disclaimer
All guests diving and snorkelling will be required to fill out a medical questionnaire to ensure that you have no medical problems (past or present) or taking any medication that may be contradictory to diving or snorkelling. Some medical conditions and / or medication may prevent you from diving or snorkelling. If you are unsure about this, please discuss this with our team at the time of booking.
* This tour is operated and managed by Ocean Dynamics, a third party operator to InterContinental Hayman Island Resort supplying snorkel, dive, boat charter and motorised water sports tours and services. As a consequence, InterContinental Hayman Island Resort is not responsible for the services supplied and cannot be held liable for any damages, losses, personal injury, costs and any other liability in relation to the operation of these services.