Explore 8 Delegate Experiences By Water
Are you planning an event at InterContinental Hayman Island Resort? Ignite team spirit with on-water activities that utilise your conference's Whitsundays location and unlock action-packed adventures in the heart of the Great Barrier Reef.
As the closest private island to the outer reef, enjoy direct access to diving, snorkelling and private charters through our on-water partner Ocean Dynamics, while immersing in the wonders of on-island kayaking, jet ski adventures and more. Here, we share our top picks for on-water experiences that are guaranteed to make a splash in your event itinerary.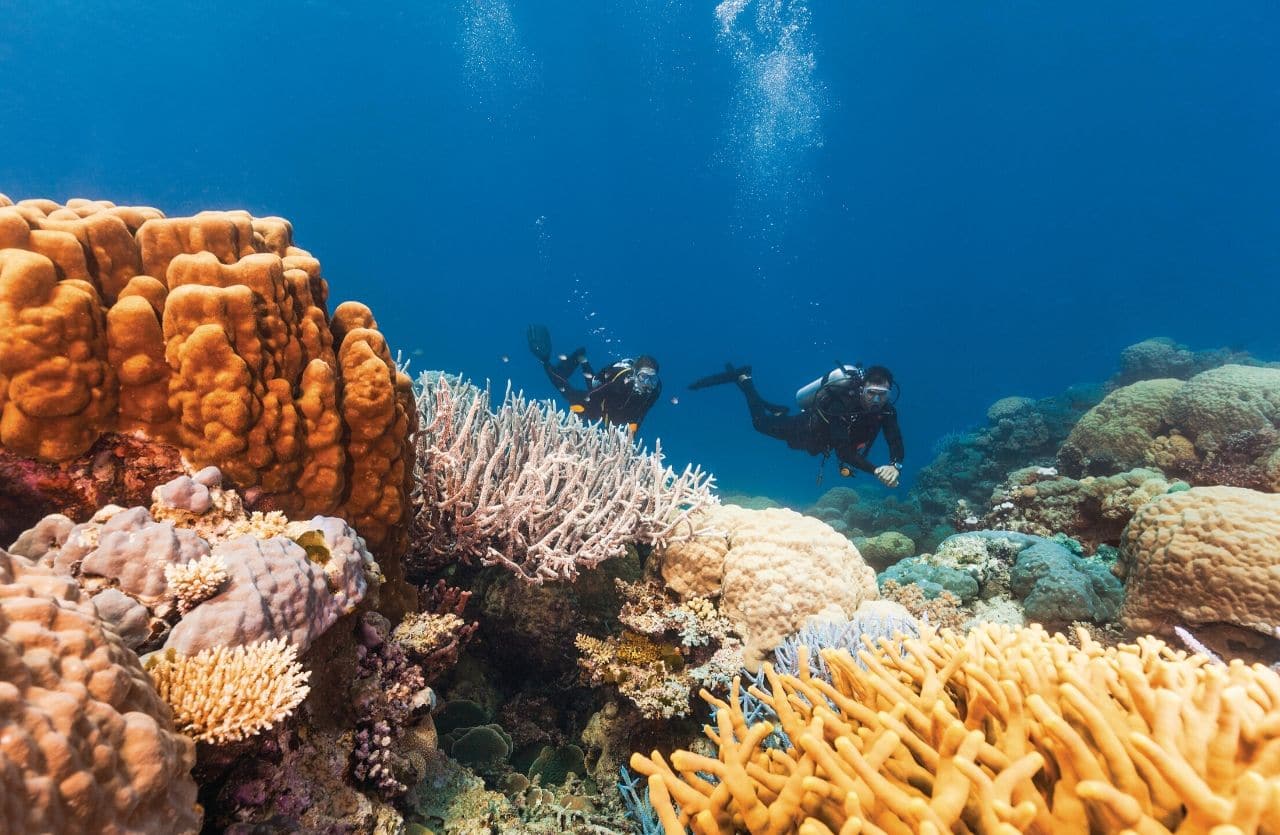 Group Snorkelling and Diving in the Great Barrier Reef
Our partner, Ocean Dynamics, unlocks incredible diving and snorkelling experiences across the Great Barrier Reef, catering to all levels of skill to ensure your unforgettable team experience is oceans apart.
Choose from introductory or advanced snorkelling tours, discover scuba diving courses or certified dives off their all-new dedicated diving vessel, on-island pool lessons and more. Immersive and destination rich, your team will be left feeling inspired.
Fishing Escapades
Ideal for smaller groups, our exclusive fishing experience in the Whitsundays starts off with a scenic tour on Hayman Island's all-new dedicated fishing vessel before getting up close and personal with a variety of unique and colourful fish families.
Perfect for afternoon outdoor sessions, this relaxing voyage allows time for networking while immersing groups in Coral Sea surrounds. Take your experience further by taking locally-caught fish back to the resort's culinary team to cook and serve for dinner in Pacific later that evening.
Guided Jet Ski Adventure Tour
Join your qualified and experienced jet ski guide on an epic one-hour jet ski adventure, where you will drive your own jet ski around the waters of Hayman Island; seeing sea turtles and other marine life up close and personal. This adrenaline-packed adventure combines jet skiing with a spectacular scenic tour of the North Queensland islands.
Private Sunset Cruises
After a long day of meetings, come together as a group to watch the sun set over the Whitsunday coastline from one of Ocean Dynamic's luxury sailing boat while enjoying a sparkling wine and light refreshments. This one-and-a-half-hour sunset cruise around Hayman Island reveals hidden coves, secret beaches and golden-hued vistas across the tranquil waters.
5.  Sea Scooter Underwater Tours
Take your group on a sea scooter tour, effortlessly moving through the Whitsunday Islands reefscape while on your personal motorised water scooter. A sea scooter is an advanced underwater scooter that enables you to glide effortlessly on and below the water (to a depth of 2.5 metres) using simple body movements to control this exciting, environmentally friendly machine.Days out
6.  on Luxury Private Motor Yachts
A range of luxury private motor yachts ranging from 60 foot to 90 foot are available for private charter and offer an unrivalled luxury charter experience ideal for groups. All yachts offer airconditioned comfort, luxurious fittings and five-star service. While on board, make use of a variety of water sport equipment including paddleboards, dive accessories, snorkels and more.
7.  Blue Pearl Bay Snorkelling Adventure 
Take on Hayman Island's walking trail and come across a Blue Pearl Bay at the 45-minute mark. Your expert tour guide will immerse you in learnings about native flora and fauna, conservation practises and more before introducing you to local marine life with a group snorkelling session.
8.  Sea Kayaks for Smaller Groups
Take small groups on a guided kayak tour, paddling out into the deep blue to explore Blue Pearl Bay, Langford Island and Bali Hai. It's the perfect way to immerse in island surrounds and you're bound to spot schools of fish, green turtles and more.
More Articles